Implementations
There are 1000's of books on project management, 100's of project management courses to take and any number of project management methodologies. Which ones to use and follow is dependent on the culture of the client's organization, what is already in place and what is required. A bigger project requires a more structured project management style. For smaller projects over formalization adds costs to the project to reduce risk, but the magnitude of the risk is often less than the addition cost. Picking the appropriate style is very much a project by project decision.
Regardless of whether any formalized approach (such as ITIL, PRINCE2, etc.) is used, basic project management components are utilized in the implementation (often called executing and monitoring phases) of the plan: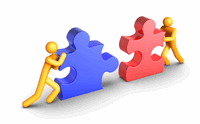 Direct and manage project execution
Quality assurance of tasks and deliverables
Manage Project team
Update and distribute status and other information
Manage stakeholder expectations
Correction of errors
Transition to use the new solution
Services
Project implementations are a continuation of a project and not an independent exercise. MRD Global works with our clients during this phase to report on progress, complete tasks and review both the completed and future work yet to be completed.
Working with our client's implementation team (in some rare cases there are not client staff members performing implementation work) to resolve day-to-day project issues and perform project team management.
On completion a formal presentation of the project, its original plan, the final plan, the work completed and the end user feedback for the project. Acceptance of the finds should complete the implementation phase and move into a support/maintenance phase or a enhancement project.
Next Step