Web Presence
As with all IT related projects solutions can range from simplistic to overly complex, from basic to advanced and from mundane to over the top. Building a web presence is more than simply building a web site. There are key objectives tied to the web project and these objectives must be matched to an appropriate solution. What are the goals of the site? Possible examples include: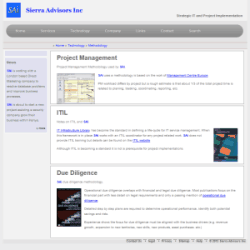 Externally Focused
Selling Online - see e-Commerce Page
Build Your Community - engage your visitors
Improved Customer Service - more information for post sales support
Generate New Leads - a sales brochure
Amplify Your Voice - marketing communications
Internally Focused
Monitoring Business - realtime monitoring (calls, leads, support calls, etc.)
Expert Systems - Workflow, Document management, other web apps, etc.
Intranet Site - Employee portal, etc.
To build a site the focus must be combined with an estimate of the cost of not having the site in order to gage the size of the investment that must be made. Sites have an initial development cost, an ongoing maintenance cost, a content management cost and an enhancement cost. All of these expenses need to be identified, budget allocated and resources assigned, potentially internal staff to handle some of the on going work, such as content management.
Technology
The options for deploying web sites are enormous but usually come done to just a few simple questions: 1) Hosted or locally deployed; 2) Linux (Apache) or Windows (IIS) based; 3) CMS based (WordPress, Drupal, etc.) or built using a framework (ASP.net or PHP based).
Answers to these questions lead to the selection of a hosting partner and any particular technology that will be required.
Smaller, Standard Type Sites
For a basics site a typical solution could be a Hosted Linux solution using PHP and MySQL as part of a framework. These type of sites tend to be quick to develop, deploy and easier to maintain as there is less learning/training for the client.
Whether you require a Windows solution on IIS with ASP.net and SQL Server or Apache with PHP and MySQL database we cater for both. For most clients with modest needed (Community sites, Service, post sales support, sales brochure and marketing) a hosted site using standard "Web 2.0" features is the target deployment. For clients needing more flexibility for the site a content management system (CMS) is recommended. This leads to greater control of the end site but required a little more learning by the client.
Large, Complex Sites
A high-end solution could include: dedicated servers, clustered database servers, multiple web servers, content delivery networks (CDN) and other custom designed solutions - these type of solutions tend to be needed only for the largest of sites. Clients in this category tend to already know a great deal about the type of solution they require and usually need help with selecting a hosting partner and review of technology requirements.
Services
MRD Global engages companies on any and all of the above topics. The initial steps are to identify the objectives for the site, agree the scope and budgets and propose potential solution sets for the client.
Based on the identified objectives build the story board for the site to highlight the visitor engagement and thus the technology components that are required (secure access to member sections, news letter management, discussion boards, news feeds, etc.)
Build the site using standard technology, tools and practices - we do

NOT

use licensed proprietary technologies nor any tools that require on going licensing through MRD Global. Hosting fees, software licenses, or other such costs are all directly between the client and the 3rd party supplier (e.g. a hosting company, Microsoft, etc.)
Resources